Boating Rules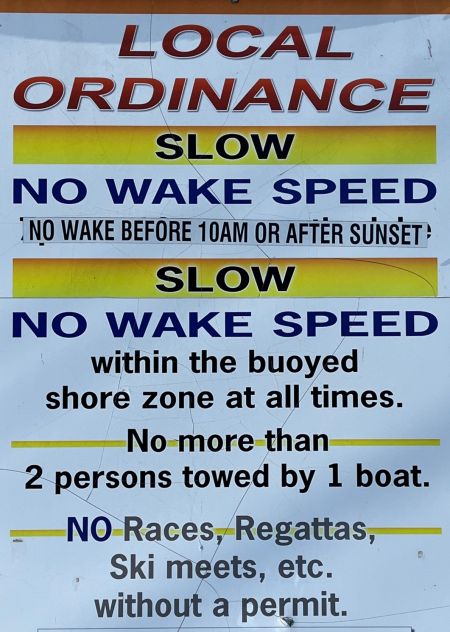 Silver Lake is host to a multitude of recreational uses of which boating and swimming are the most popular.  Motorized boating includes getting to the best fishing spot; towing tubes, wakeboarders, and water skiers; and simply getting out on the lake.  Boating also includes non-motorized pursuits like kayaking, canoeing, paddle boarding, sailboarding, sailing, pedal boating, kite surfing, and just drifting.
When many boaters go out onto the lake at the same time, conflicts sometimes occur.
Boating Rules have been developed by the WDNR and the Village of Salem Lakes to provide a safe recreational experience for all.   Click on the links below for copies of the state and local rules:
COMMON SENSE
Safety First
Awareness --Be aware of other boaters and where they might be headed.  Expect the unexpected.  The lake does not have defined lanes like a highway.
Lifejackets -- Have a lifejacket (PFD) for each passenger on every type of boat and have an extra throwable PFD on all boats over 16'.  Anyone being towed and everyone on a personal watercraft needs to wear a PFD.  Children should always wear a PFD.
Swimming – Swim in the No-Wake Zone (between the shore and the No-Wake buoys) or close to your boat when in deep water.  Consider wearing a PFD when swimming off your boat.  Assume boaters cannot see you while you are swimming.
Stay Out of Traffic -- Avoid anchoring, drifting, or otherwise lingering in the "towing lane" outside the No-Wake Zone when the lake is busy.
No-Wake Zone – Idle-speed only when in the No-Wake Zone (between the buoys and shore).
Boats Towing Tubes, Wakeboarders, and Skiers – Go around the lake in a counter-clockwise direction outside the No-Wake Zone (on the lake side of the No-Wake buoys).
Overtaking Boats -- Stay clear of all slower boats in front of you.  The rule is to stay at least 100' away from all other boats when moving at any speed above idle.
Motorized boats -- Stay clear of all non-motorized boats, including all boats at anchor, drifting boats, paddle boards, sailboats, kayaks, pedal boats, etc.  The rule is again to stay at least 100' away.
Be A Good Neighbor – Other boaters and nearby lakefront residents probably don't share your musical tastes.  Anchor away from other boats and away from private docks.  Don't throw trash into the  lake.
DESIGNATED SWIM AREA
No boats of any kind are allowed in swimming areas designated by Swim Area buoys.  Silver Lake has two public swimming beaches with Swim Area buoys – Kenosha County's Silver Lake Park on the north end of the  lake and the Village's DeWitt Park on the southwest shore.
NO-WAKE RULES
No-Wake Zone --Clearly identified white "No-Wake" buoys create a ring that encircles Silver Lake.  The No-Wake Zone is the shore side of the ring of buoys.  Draw an imaginary line from buoy to buoy and that is the boundary of the No-Wake Zone.
No-Wake Hours Sunset to 10:00am Daily --The Village's No-Wake rule is in effect for all of Silver Lake, as well as all other lakes in the Village.
No-Wake Hours Expanded to 24/7 With High Lake Levels --The Village also expands No-Wake hours to 24/7 when lake levels reach 8.23' on the Village gauge at the outlet creek.  The Village posts the No-Wake rule on the Village website when it is in effect.  Visit  https://www.villageofsalemlakes.org/
BOAT REGISTRATION
All boats must display registration numbers, except for unmotorized sailboats less than 12' and manually powered boats including paddle boards, kayaks, canoes, and pedal boats.
OPERATOR EDUCATION REQUIRED
All motorized boat operators born after January 1, 1989, are required to complete a boating safety course. The course is available online.  For more information, visit   https://dnr.wisconsin.gov/Education/OutdoorSkills/safetyEducation
MINIMUM AGE TO OPERATE A MOTORBOAT OR PERSONAL WATERCRAFT (PWC)
The minimum age for operating a motorboat or personal watercraft (PWC) is 12 years old.  The only exception are motorboat (not PWC) operators 10-11 years old who are accompanied by an adult who has completed a boating safety course or who was born before January 1, 1989.
PERSONAL WATERCRAFT (PWC)
All passengers must wear a PFD.
The cut-off switch must be attached to the driver.
The PWC must be operated in a responsible manner:

No closer than 100' to another boat when at speed.
No jumping a wake closer to 100' of a boat or a person being towed.
No weaving through congested traffic.
No chasing or harassing wildlife.

Towing with a PWC:  Need at least two persons on the PWC, one of whom is a rear-facing observer, OR the PWC needs to have a wide-angle rear-view mirror.
TOWING TUBES, WAKEBOARDERS, AND SKIERS
Tow in a counterclockwise direction outside the No-Wake Zone.
Need competent rear-facing observer OR a wide-angle rear-view mirror.
The boat must be operated in a responsible manner.
The boat AND the towed tube or person must stay at least 100' away from another boat.
Be sure the propeller is not turning (engine is off or boat is in neutral) when tube passengers, wakeboarders, or skiers are entering and leaving the water.
All tubers, wakeboarders, and skiers need to wear a PFD.
No more than two tow lines.
Maximum passengers in a tube not to exceed the manufacturer's stated capacity.
PADDLE BOARDS, SAILBOATS, SAILBOARDS, AND PEDAL BOATS
One PFD for each passenger (only exception is for sailboards).
Recommendation:  Go upwind first so you don't get blown downwind and can't get back.  Wear a whistle to summon help if you can't get back.