Environmentally Sensitive Areas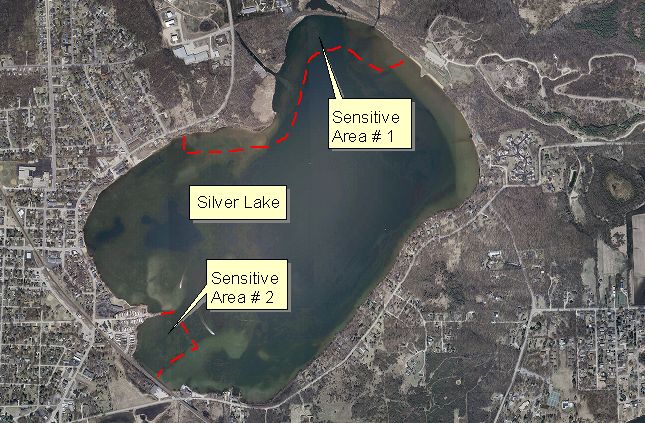 Environmentally sensitive areas provide water quality benefits, reduce shoreline erosion, and provide habitat necessary for the seasonal and/or life stage requirements of fish, invertebrates, and wildlife. 
The WDNR's designation of a Sensitive Area alerts interested parties that the environmentally critical area contains crucial habitat vital to sustaining a healthy lake ecosystem.
The WDNR has identified two Sensitive Areas in Silver Lake. 
Sensitive Area #1 encompasses the offshore area along the northwest corner of Silver Lake. 
The adjacent shoreline is largely publicly owned by the State of Wisconsin and Kenosha County.
The shoreline in Sensitive Area #1 is almost completely natural except for the public WDNR launch access. 
Trees dominate the shoreland buffer, while shrub and herbaceous plants are common. 
The area exhibits two stream inlet zones and contains a fish spawning marsh with a direct connection to the lake.
The littoral zone exhibits good aquatic plant diversity with a combination of emergent, floating leaf and submergent aquatic plant species. 
Several attributes enhance water quality, including nutrient buffers, biological and physical zones, micro-habitats, sediment stabilization, and a stream inlet zone.
Sensitive Area #2 is located in the southwestern corner of Silver Lake.
Sensitive Area #2 was designated primarily due to its importance as a fish nursery. 
The shoreline on the west side of this area is fully developed.  The southern boundary is the shoreline at the bottom of the train track embankment.
Sensitive Area #2 has an abundance of diverse offshore native aquatic vegetation, dominated by native pondweed, that provides quality nursery habitat, feeding and protective cover for the majority of fish species present. 
Some species such as the golden shiner and yellow perch will utilize the submergent vegetation for spawning media. 
Maintenance of the area is crucial to young game fish and forage fish.
The WDNR Sensitive Area designations limit new piers and moorings, and prevents new boat ramps, dredging, filling of wetlands, and other activities that might disturb the aquatic habitat.  Chemical treatment of invasive species is to be undertaken carefully to not disturb beneficial aquatic plant species.  The WDNR also recommends marking the Sensitive Areas as "No Wake" zones.
Reports