Fishing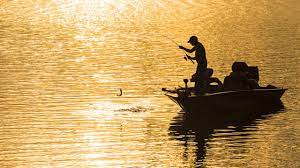 Silver Lake is a very popular fishing lake.  It is not unusual to have 12-18 fishing boats on the lake early on summer weekend mornings, with half as many in the evenings.  Summer afternoons are also popular for catching panfish.  Even winter ice fishing can bring out 6-12 or more groups, depending on the weather, many more if there is an ice fishing derby.
Fish Species in Silver Lake
Silver Lake is home to a wide diversity of fish species.  Over 42 species have been identified, from game fish to panfish to minnows, including the following:
Game Fish:  Muskie, Northern Pike, Walleye, Large & Smallmouth Bass
Panfish:  Crappie, Bluegill, Pumpkinseed, Green Sunfish, Rock Bass, Yellow Perch, Warmouth
Minnows:  Various Shiners, Fathead Minnow
The WDNR completed a Fisheries Survey of Silver Lake in 2021.  Click here for the Report Summary,  The report is expected to be posted to the WDNR website in 2023. Visit https://dnr.wisconsin.gov/topic/Fishing/report to view the report,
The WDNR has been stocking Silver Lake for over 50 years.  The WDNR has stocked Walleye, Muskie, Northern Pike, and Largemouth Bass fingerlings, though the WDNR is no longer stocking Muskie.   
Visit https://dnr.wi.gov/fisheriesmanagement/Public/Summary/Index to view annual fish stocking data or click here for the 1972-2022 WDNR Fish Stocking Summary.
Wisconsin Fishing Rules
Visit the  WDNR website https://dnr.wisconsin.gov/topic/fishing/regulations or click here for a pdf copy of the WDNR Guide to Wisconsin Hook and Line Fishing Regulations.
Fishing License
Everyone 16 years and older needs a State of Wisconsin Fishing License, which means that anyone 15 years and younger does NOT need a fishing license.  Licenses can be purchased at bait and sports shops or online.
Fishing licenses can be for the season, one day, or several days.  Licenses have many pricing options and discounts:  Residents/Non-Resident, Family, First-Timers, Active-Duty Military, etc.
Wisconsin also has two Free Fishing Weekends per year when no license is required– the third full weekend in January and first full weekend in June.
Fishing Seasons (typical year) 
Muskie:  Closed Jan 1 until 1st Saturday in May
Northern Pike: Closed early March until 1st Saturday in May
Walleye:  Closed early March until 1st Saturday in May
Large and Smallmouth Bass:  Closed early March until 1st Saturday in May, but open all year for Catch-And-Release
Panfish:  Continuous open season
Visit https://dnr.wisconsin.gov/topic/Fishing/seasons for additional information.
Catch-And-Release
Catch-And-Release and Catch-Photograph-And-Release are the most popular forms of fishing on Silver Lake.  Catch-And-Release is an important way to ensure that Silver Lake will have sustainable trophy fishing in the future. 
Visit https://dnr.wisconsin.gov/topic/Fishing/outreach/ResponsibleRelease.html  regarding how to properly release a fish.
Daily Bag Limits
Low Daily Bag Limits per angler have been set for all Silver Lake game fish.   
Muskie:  1 at least 40"
Northern Pike:  1 at least 32"
Walleye:  3, each one at least 18"
Largemouth and Smallmouth Bass:  1 at least 18"
Panfish: 25 total
Other Important Rules
Three hooks, baits, or lures maximum per fisherman.
Faster-moving boats generally need to stay clear of all slower boats, including anchored, drifting, or trolling fishing boats.  The rule is that all boats need to stay at least 100' away from all other boats.
Powered fishing boats while underway need to stay clear of unpowered row boats, kayaks, paddle boards, sailboats, sailboards, etc.  Again, stay at least 100' away.
Only purchase live bait from Wisconsin bait shops (native species).
Don't release unused live bait into the lake.
Before launching your boat into Silver Lake, remove all hitchhiking plants from your trailer and drain all water from your boat.  Repeat the process after you pull your boat and trailer out of the water at the end of the fishing day.
Don't leave used fishing line in the water or in adjacent trees where it can harm or kill fish and birds.  Recycle it in the PVC collection bins at boat launches.
No-Wake Hours
Sunset to 10:00am daily --This No-Wake rule applies to all lakes within the Village of Salem Lakes.  Fishing in the early morning hours is not only productive, but also tends to be very quiet and peaceful.  But plan to idle out to your favorite spot.
High-Water No-Wake 24/7 --The Village will expand the No-Wake rule to 24/7 when lake levels are elevated above 8.23' on the  Village gauge at the outlet creek.  The Village posts the No-Wake rule on the Village website when it is in effect. Visit https://www.villageofsalemlakes.org/ .
No-Wake Zone
Clearly identified, white "No-Wake" buoys on Silver Lake create a ring that encircles the lake.  The No-Wake Zone is the shore side of the ring of buoys.  Idle-speed only in the No-Wake Zone.
Fish Caught in Silver Lake
| | | |
| --- | --- | --- |
| Yellow Perch | Blue Gill | Sunfish |
| Pumpkinseed | Warmouth | Smallmouth Bass |
| Walleye | Northern Pike | Muskie |
| Northern Pike | Largemouth Bass | Rock Bass |
| Largemouth Bass | Largemouth Bass |   |